| | | | | |
| --- | --- | --- | --- | --- |
| [ | mood | | | dizzy | ] |
So, if you'll excuse me, this post is one part selfishness and one part sharing, so let's get the selfishness out of the way:


zazen_boys, anyone? Zazen Boys need a little bit more love, in my opinion, and since there didn't seem to be a community dedicated to them, I have created one. Please join if you like Zazen Boys.



Okay, now that the part where I act like a whore is out of the way, I give you some things. Mostly things I uploaded for friends or the like, and I didn't want the links to go to waste.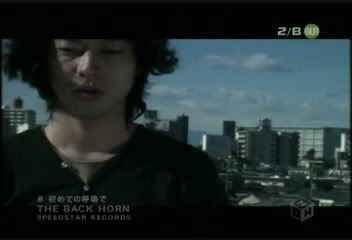 The Back Horn - Hajimete no Kokyuu de [single] [PV]

The Back Horn aren't really indie, but in keeping with the "major bands that still don't get all the attention they deserve" thing in the userinfo, I thought I'd post them. I think The Back Horn are starting to get more attention, but either way I don't think they'll ever have as much attention as they deserve, and if even one person here hasn't heard their music, then I'll be happy. That said, for the people (both of you!) who haven't heard them - their music is sort of hard for me to describe, because I feel like I would gush too much if I tried. Needless to say, they're an extremely solid, talented band fronted by a viciously passionate vocalist that (in my opinion) is one of the most enjoyable in music today. Not to mention Suganami can play that guitar like a wild man, it's genius to watch sometimes. Give them a try, if you haven't.

VOLA & THE ORIENTAL MACHINE - demo
For some reason, the .rar file has two copies of track three. I have no idea why this is.

Anyways; if you don't already know, VOLA is the amazing ex-Zazen Boys ex-Number Girl drummer Ahito Inazawa's new band (and the reason he left Zazen Boys, allegedly). Inazawa (now under the name VOLA) has given up the drumsticks for the most part to do vocals and guitar (though the site still lists him as drums, they DO have their own drummer (from syrup16g), not to mention he is also listed as the guitarist and vocalist) and the vocals are something most of his fans have heard before in backups for Zazen and the like. It borders on the warble-y sometimes, though it does fit the frantic nature of some of their songs quite well. While the drummer is no Inazawa, he keeps up the feverish pace nicely. The guitars soar and halt suddenly, ripping along quickly with Inazawa's vocals that tend to leap all over the place. It's all pretty different in it's own way, a pretty good start for a new band.

NATSUMEN - Never Wear Out Your Summer xxx!!!

Natsumen seem to be, from my experience, a band you either love or hate. They're an eight-member band, so there's a lot going on there, and to some it may seem ridiculous to listen to, and others it may be something like genius. Two guitarists, a bassist, a drummer, a keyboard/piano player, an alto-sax and a tenor sax, and a trumpet. All coming together to create something manic and amazing, if you're into it.

Shiina Ringo and Mukai Shutoku - KIMOCHI

Self-explanatory, isn't it? It's all novelty, two geniuses coming together so nicely, isn't it?


Enough of me blahblahblahing (I have too much time on my hands). I hope you find something you like.